As one of Asia's fashion capitals and international trend centers, Tokyo has been one of the trend setters in the world. Believing that a decent and fashion image shows politeness, and respect for oneself and others. The Japanese people have high beauty benchmark and relatively high living standard. Coupled with the collision of tradition and modernity, convergence of the East and the West, the Japanese beauty care industry has been full of vitality and creativity. Therefore, Japan is listed among the world's advanced countries in terms of technical experience, theoretical innovation, plastic surgery and beauty care devices and equipment. It is also the frontrunner and fast market grower of personal beauty care appliance industry in Asia and in the world at large.

Due to high quality and good performance, the electronic products of Japanese manufacturers have sold well globally for half a century. In the recent two years, the Country of Electronics has not only launched multifunctional toilet seat covers, smart electric cookers and other electronic products which gain wide popularity in China, but also personal beauty care appliances that have also won the favor of Chinese females and become the must-buy items in the shopping list of tourists before returning to China. For this, online agents buying electronic beauty products from Japan have surged.

As is known to all, the Japanese beauty and skincare products are manufactured with rigorous standards that surpass those of European, American and South Korean products. In comparison `with European and American women, Asian women show differences in body contour, skin type and facial outline, which require differences in beauty care. For instance, the Westerners have a relative low fat content in the skin cuticles and thus tend to use skincare products containing a high silicon and fat content to improve the skin plumpness; the Asian people have a high fat content in the skin cuticles and hence tend to focus on moisturizing. To cater to the Asian women's beauty care demand, the Japanese beauty products are functionally designed, formulated and tested to improve the skin of Asian women. As the Chinese people have the most similar facial and skin features with the Japanese people, the personal beauty care devices from Japan have been widely accepted by the Chinese consumers.

Among the personal beauty care brands from Japan is NanoTime Beauty. Launched in Yokohama back in 2004, the brand has first focused on domestic market development and expansion in Japan. The past few years have seen NanoTime Beauty making a figure in Southeast Asia and Mainland China. The NanoTime spray moisturizer has been selling hot in Indonesia and China. It's seen available in Sephora China stores. Putting forward the idea of smart personal beauty care devices, the brand has refreshed people's understanding of personal beauty care products, drawing wide media attention and sparkling discussions in the industry.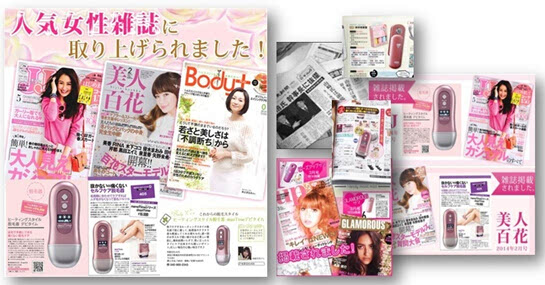 The Unavailability of Follow-up Services of Personal Beauty Care Electronic Products Being the Pain of the Industry

Personal beauty care devices are no novelties in China. Facial cleansers, hair curlers, beautifiers, face steamers, hair removers and electric eyelash curlers are available through E-business channels. In addition to traditional big-name home appliances brands like Philips and Panasonic, there are Yaman, MTG, Dr.Ci:Labo and NanoTime Beauty from Japan, Tripollar and Clarisonic from the European and American markets, and Kingdom, Beautysay and Danlong from China. Relatively young, however, the personal beauty care devices industry has a low technical threshold and offers a wide range of products. As the industry develops rapidly, the products have become increasingly homogeneous. Therefore, setting new trends and developing at a higher speed with new technologies or models has become the common problem faced by the industry.

Meanwhile, a great number of users are not familiar with this new segment and the products. A new category derived from hospitals and beauty parlors, personal beauty care devices need to be professionally guided in usage. Most consumers have no idea of how to use RF beauty, photon hair removal, photon beautifying and ion effector products, and what instructions to follow and what auxiliary appliances to use with. Unable to use these products correctly, the consumers can't enjoy the efficacy of these products, and may be exposed to negative effects.

The biggest difference that sets the home beauty appliances apart from general household appliances is that users need consistent and follow-up guidance in specialized product knowledge, beauty knowledge and personalized, customized beauty service after purchase. Restricted by the development status and technical conditions of the industry as previously mentioned, personal beauty devices are now sold as home appliances; manufacturers and users have no interaction after the products are sold. Whether the users are using the products correctly, having any questions or suggestions and comments, whether the manufacturers are learning about how the users think about the products after use, and trying to improve the products…All these problems are not effectively communicated and resolved.

In the use of personal beauty devices, technical products most vital to their skin and appearance, consumers have a strong demand for personalized services, high-end and individual-based services in particular. However, personal beauty devices now in the market are only simply beauty electronic products available for sale, without follow-up, professional consultation services.

In response to such industrial challenges, NanoTime Beauty has put forward the new concept of smart personal beauty care devices. Though possibly unfamiliar to ordinary people, this concept is considered an industrial reform out of the public understanding on smart technologies and the far-reaching impacts thereof. Therefore, NanoTime Beauty about to enter the Chinese market has become a hot topic of discussion in the industry.

NanoTime Beauty Smart Personal Beauty Care Devices Unveiling a New Development Blueprint for the Industry

The difficulties of the industry and the pain spots of the users are innovative opportunities for manufacturers. As the global industries develop towards intelligentization, Internet of Things and big data, NanoTime Beauty has made the groundbreaking move of prioritizing smart and Internet+ technologies, combined smart hardware, electronic beauty technologies, with apps and online beauty services, and practiced the idea and business model of smart home beauty appliances. Through smart technologies, the noted electronic beauty expert from Japan facilitates the communication and interaction between users and manufacturers, and promotes the spread of specialized product and beauty knowledge. Guided by the vision of providing users with customized, high-end services on the basis of smart products and technologies, NanoTime Beauty has made product sale the starting point, instead of the ending point, of manufacturer-user communication.

Surely, beauty apps presented by Internet companies can be found in the market. Not backed up by smart hardware products, these apps often have incredibly high user development costs and prominent problems in user development and retention because of low user loyalty. One of Japan's top ten beauty product brands " NanoTime Beauty " has innate advantages in hardware research and development, manufacturing and operation. The target groups gradually developed from sales of smart hardware products are also app users; users downloading apps can also become target groups of smart hardware products. Such a new business model combining software and hardware, online and offline interaction offers beneficial strengths for cyclic and sound development.

In short, NanoTime Beauty, users and third party organizations are interacting with and promoting each other under this new business model. For NanoTime Beauty, smart hardware, app and big data cloud platform are indispensible functional elements that constitute a new mutually promoting, cyclic O2O business model based on end products and strengthened by app and cloud platform-driven beauty service. It can be said that this differentiated new model of smart products complementary with personalized, unique services has depicted a new blueprint for the development and upgrade of the personal beauty care industry.